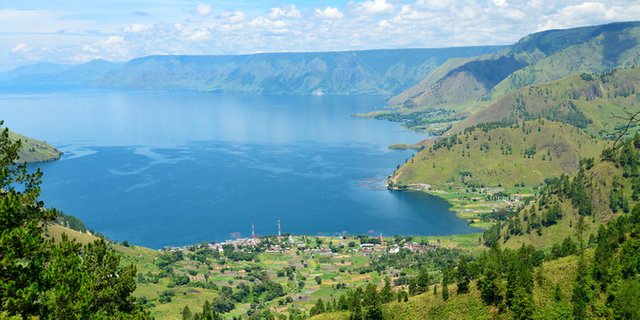 Of course the people of Indonesia already know what Lake Toba is located in North Sumatra Province and it turns out to be the largest lake in Indonesia. Where in the middle of this lake resides an island, which is Samosir Island.
Most of the people of Indonesia know Lake Toba from folklore, and of course there are in the lessons when sitting in elementary school. When we take a peek at its natural charm, Lake Toba offers a stretch of lake with clear blue waters of the lake coupled with cool air that hits you if you "fun" riding a canoe into the middle of the lake.
But keep in mind, if you are interested in Samosir Island you can take the ferry. On the island you can enjoy the whole stretch of Lake Toba. Activities that you can do on Lake Toba include playing jet skiing, going around the lake by boat, enjoying the challenge of riding a banana boot, watching a variety of local traditional dances, watching a boat racing race, and others. Lake Toba is also surrounded by shady pine trees, so no need to worry about the atmosphere, of course the atmosphere in this place is very beautiful.
Residents around Lake Toba have a main income, namely farmers and fishermen. That is because the people still rely on the natural resources around them, and they also uphold customs and culture.
If you are interested in going on a tour on Lake Toba, you can choose the right time to visit, such as during traditional ceremonies and Lake Toba festivals. You can maximize and get a unique experience to Lake Toba, not just playing water and spoil your eyes with its natural charm.
The Legendary Lake Toba Story
Behind its beauty, it turns out that this lake is very thick with the legend of its people. Maybe in each region has a different story of Lake Toba, but broadly the same outline. Once upon a time there lived a diligent farmer and a barman who was fishing. However, the fish caught are not ordinary fish. But the fish that can talk, and it turns out the fish is the incarnation of a princess who was cursed into a fish.
After being returned to the water, the fish turns into a beautiful woman and the farmer marries the woman. However, there is a requirement that the farmer must not violate, that it cannot mention the origin of the daughter of a fish, if it is violated there will be disaster.
Time passed and finally was blessed with a boy, but its nature likes to eat. One day his child ate all the food from the farmer, because the farmer or father was upset, the farmer was angry and said, "you little fish!" So the child and his wife instantly disappeared, and from the former footrest suddenly sprayed water that was so swift that it became a lake and finally formed a lake.